Office:

Voicemail-Greetings.com / Massivetracks.net

US Los Angeles Office:

Frank Luke
Phone: +1 213-412-0548
Email: office@voicemail-greetings.com


German Office:

Engelhardt Wittig GbR
Schertlinstr. 10 A
86159 Augsburg
Germany

Tel.: +49 / (0) 821 / 31 71 001
Fax: +49 / (0) 821 / 31 71 005

contact@voicemail-greetings.com

Tax number:

St. Nr.: 103/158/02305
USt. ID.: DE 179319584

Contact persons:

Please direct questions to our contact persons.

US Los Angeles Office:
Frank Luke
Phone: +1 213-412-0548
Email: office@voicemail-greetings.com


German Office:
Gregory Engelhardt / Thorsten Wittig
Schertlinstr. 10 A
86159 Augsburg
Germany

Tel.: +49 (0) 821 / 31 71 001
Fax: +49 (0) 821 / 31 71 005

The content of this website ( text, images, graphics, sound, animation) is subject to copyright and other laws for protecting intellectual property. You may not use, copy, or modify individual elements of the website, for private or commercial use, without the prior express written consent of Voicemail-Greetings.com / Massivetracks.net.

Neither Voicemail-Greetings.com nor its managing director, employees, licensors, content providers, affiliates, or other representatives will be liable - except as specifically stated in these terms of use or elsewhere on this website, or as otherwise required by applicable law - for damages of any kind (including lost profits, direct, indirect, compensatory, consequential, exemplary, special, incidental, or punitive damages) arising out of your use, your inability to use, or the performance of this website whether or not we have been advised of the possibility of such damage.

Neither

Voicemail-Greetings.com

nor its directors, employees or licensors are liable for damages to telephone systems, answering machines and telecommunications equipment, which may occur through the use of any of our products.

Voicemail-Greetings.com

makes every effort to ensure the accuracy, reliability and quality of the content. However, Voicemail-Greetings.com takes no responsibility, and will not be liable for the accuracy, reliability or quality of the content.


Pre-recorded Voicemail Greetings for:



completely royalty free - valid for an unlimited period of time - no additional fees

Our voice talents are professional and experienced radio announcers that will leave the perfect impression with your callers.


What our customers are saying..

Wow, the recording sounds even more professional than what I was expecting, many thanks!

- Brent
Bytes Ahead Ltd.

Thanks so much, the recordings are perfect!

- Oleg
On The Ready I.T. Consulting

The recorded message sounds perfect!

- Denis
Chelsea Auction INC.

Very Good quick service. Would recommend

- Neil
Cartridge Tech Ltd.

We are tickled pink with the voice message and appreciate the professionalism it infers.

- Lynn
All About Training, Inc.

Amazing ! Thank you

- Zac
N-Patrol Security Systems Inc.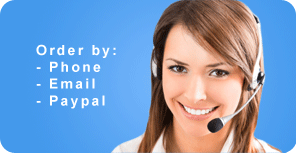 by Phone - Please call +1 213-412-0548

by PAYPAL / CREDIT CARD (

24hrs / day

)

:

The fastest and most convenient way to acquire a phone message is to pay via Paypal.

You can download your pre-recorded phone message immediately after payment/order from our FTP server. (24 hrs. a day)

Paypal is the most widely recognized and most secure online payment service. With more than a 100 million users worldwide.
Paypal accepts VISA, MASTERCARD, DISCOVER, AMERICAN EXPRESS & eCHECK.

If you have further questions regarding ordering, you may contact us any time.